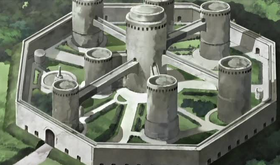 Original name: Chateau de Lezan Dou Crepuscule, (meaning 'Castle of the Twilight Grapes',) also called the Sunset Vineyard. It is the imperial castle of Rodelia and the abode of Princess Septieme and her siblings.
The castle is like a bunch of grapes, having scattered towers. Inside those towers, the royal children live separated, each one plotting how to dominate and/or kill the others. They only meet during dinnertime.
Ad blocker interference detected!
Wikia is a free-to-use site that makes money from advertising. We have a modified experience for viewers using ad blockers

Wikia is not accessible if you've made further modifications. Remove the custom ad blocker rule(s) and the page will load as expected.