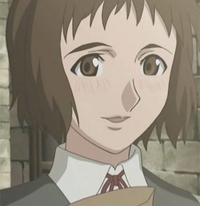 Marielle is the daughter of a drug-addict living in the water distribution channels of the Imperial city central. She was being harassed by the Mion Waterworks' guards while the Pumpkin Scissors team came. Oreldo interfered then. She cut and sold her hair to pay for the drugs her father bought.
Oreldo met her by chance on another day and he and Martis helped her out. They staged a harassing act in front of her father who finally realized his mistake and managed to stand up to protect his daughter.
Ad blocker interference detected!
Wikia is a free-to-use site that makes money from advertising. We have a modified experience for viewers using ad blockers

Wikia is not accessible if you've made further modifications. Remove the custom ad blocker rule(s) and the page will load as expected.